SCHEDULE OF EVENTS
Our free events programme is based on the themes of resilience and innovation, and is shaped around the intelligence gathered directly from regional businesses. The events are delivered by business leaders who share their knowledge and expertise around resilience, innovation and the challenges businesses are facing as a result of COVID-19.
Citylife Business Support is a free service for SMEs based in the North of Tyne region which have been adversely affected by COVID, helping them to adapt to new challenges and safeguard jobs.
The service has been set up by extending and bringing together expertise from across the city, including NGI. A free package of support will focus on enabling businesses to develop and implement new models of delivery to help them recover and plan for their future.
As well as this free events programme, eligible SMEs can also access up to 8 hours of free support from Business & IP Centre Newcastle (BIPC) 'Citylife Experts'. Click here to find our more.
Sign up to receive communication from Citylife as new webinars in the series are announced.
---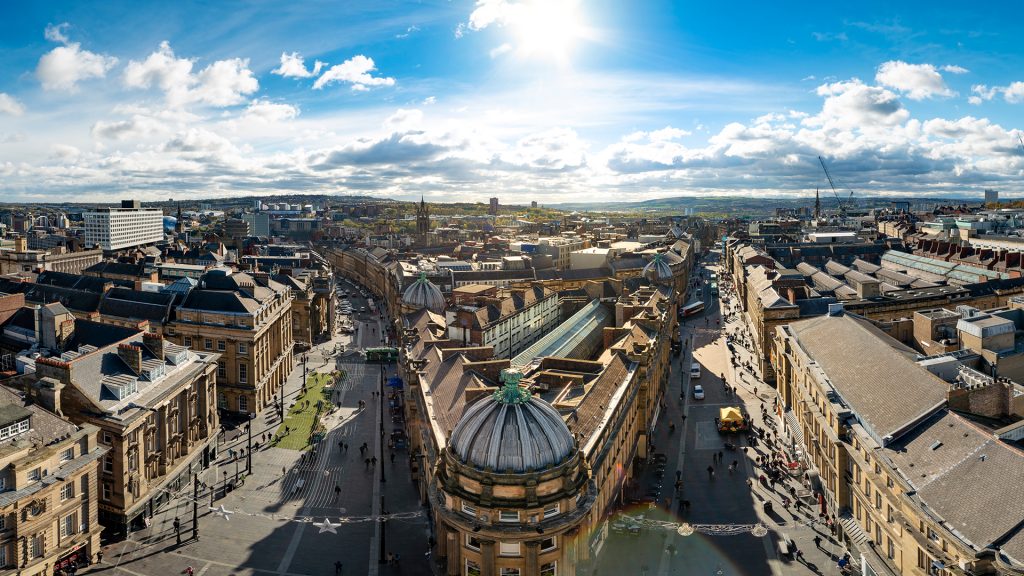 COMING UP
---
Thursday 21 January, 13:00 – 14:00
Let's talk about mental health in the workplace
The pandemic, subsequent lockdowns and closure of businesses have impacted most people's mental health and wellbeing. Knowing how to have conversations with your colleagues and employees about mental health is more important than ever, but it can be difficult to know where to start.
As staff look to return from furlough, employers should consider their integration back into the workplace, as it may be a daunting or overwhelming experience.
Employment and mental health specialists Elsa Wright and Ian Martin from Cumbria, Northumberland, Tyne & Wear NHS Foundation Trust will guide you through the steps you can take to start having these conversations, including tips on what to say and access to their Survive and Thrive pack which can be distributed to your returning colleagues and employees.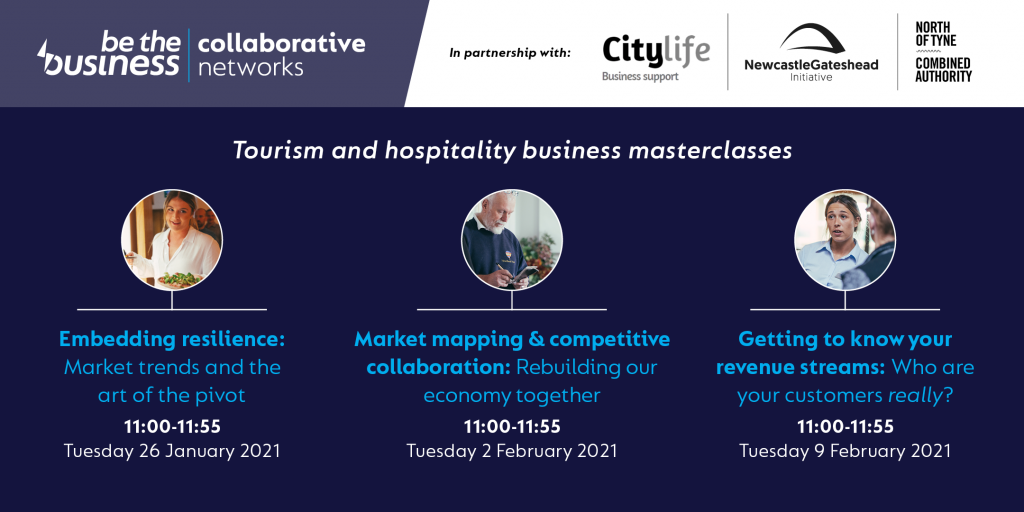 Tuesday 26 January, 11:00 – 11:55
Embedding resilience: market trends and the art of the pivot
This first event in a weekly series of 55-minute masterclasses designed to help hospitality and tourism firms take control again, will tackle the subject of business pivots. You'll have heard a lot about them in the news in 2020, but how do you do it effectively?
Hosted by industry experts and featuring the stories of hospitality and tourism businesses just like yours, this masterclass is designed to look at how hospitality and tourism businesses have pivoted as part of recovery plans and how through looking at market trends, you can do the same.
You'll also learn how to frame your business through the 4Ps of product, price, promotion and people, and how your online presence is vital to a positive and affirming start to the customer experience.
What will be discussed?
Market trends 2021
The concept of the 4Ps
Pivoting to embed resilience
Applying a pivot to your business
The pre-arrival customer experience
Tuesday 2 February, 11:00 – 11:55
Market mapping and competitive collaboration: rebuilding our economy together
We know effective business planning isn't just about the numbers and focusing on internal activity, it's just as much about knowing what's going on outside your business.
This masterclass will explore the concept of market mapping and the power of good business partnerships. The ability for companies in the hospitality and tourism to come together in effective ways will be vitally important going forward.
Use this 55-minute session to kick-start your efforts to map your market position effectively and get partnering.
What will be discussed?
Understanding market mapping
Plotting your market position
Identifying competitors & complementors
Collaborating with other businesses
The new onsite customer experience
Tuesday 9 February, 11:00 – 11:55
Getting to know your revenue streams: who are your customers really?
Having a thorough and well thought through business plan is an essential part of leading any business, but knowing who your customers really are should be non-negotiable.
This masterclass will focus on revenue planning through different customer types to ensure your business is operating at its most competitive.
Discover how to identify, understand and target new customers to support your business recovery plans and how new target markets might be the best route forward.
This 55-minute masterclass is specifically designed to help you understand the importance of customer profiling to support your revenue streams.
What will be discussed?
Who your customers really are
Creating customer profiles
Understanding target markets
Managing revenue streams
Targeting new customers for business recovery
---
CITYLIFE EXPERTS IN RESIDENCE
As part of the Citylife Business Support service, the Business & IP Centre (BIPC) Newcastle is holding a number of webinars with Citylife Experts.
---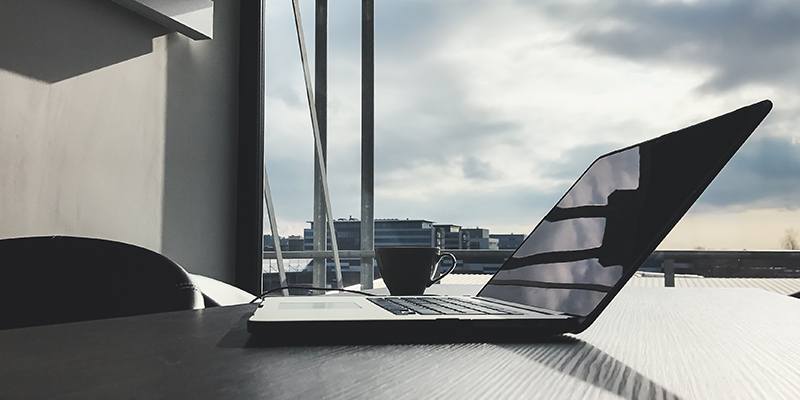 WATCH BACK
Q&A with Newcastle City Council for hotels
An opportunity for hotels in Newcastle to ask Nick Forbes, leader of Newcastle City Council, and Pat Ritchie, Chief Executive of Newcastle City Council, questions around the new legislations and how they will impact hotels.
Q&A with Newcastle City Council for tourism and hospitality businesses
The announcement placing the North East within Tier 3 Covid restrictions is disappointing for all living and working in area, and devastating news for our tourism and hospitality industry. We know that under normal circumstances, hospitality businesses can take up to 30 per cent of their annual turnover in the month of December and this cash is then used to pay wages through the quieter months of January, February and March.
At this key moment for our region, we know that you will all have questions relating to the current public health picture, the tiers and restrictions and the national Covid Christmas plan. Nick Forbes, leader of Newcastle City Council, and Pat Ritchie, Chief Executive of Newcastle City Council, answer questions around the new legislations and how they will impact tourism and hospitality businesses in Newcastle.
---
Using digital to overcome Covid-19 challenges
Adapting your business to an online audience has been crucial for the survival of countless businesses that have been forced to close during England's second lockdown.
Dr Dimitra Skoumpopoulou from Northumbria University and Caroline Hagan from web design and development company Blueocto will discuss how small businesses have successfully adapted to the digitally focused world the pandemic has plunged us into. Along with tips on how you can diversify your offerings, you'll receive guidance from experts on how to improve your digital presence on a budget.
This will be followed by a panel discussion with local SME's that have successfully adapted, using digital, during coronavirus. Our panelists include: representatives from Blackfriars, Tyne and Wear Archives and Museums and Iles Tours, as well as the creator of Book Slots App.
---
The importance of an online strategy – a digital marketing masterclass
Brand performance experts at Precept will take you through why a performance strategy is essential for a high performing website, plus how to utilise SEO and PPC to boost your business' visibility and engagement online and how to build a strategy to get the most out of digital.
Coronavirus has emphasised the importance of businesses having an online presence, but it can often feel like you're a small fish in a big pond. This webinar will guide you through the step-by-step actions you can take to successfully market your business online.
---
The latest on furlough – what happens next
Jamie Gamble, employment partner at Ward Hadaway talks us through the extension of the furlough scheme until the end of March – what's different and what this means for your business.
---
The jobs market and future proofing your business
The end of October marks the end of furlough and has been flagged as a key date for the jobs market, leading to many questions, challenges and an
There is an increased need to support employers to future proof their business and support those at risk of redundancy. Employers want to do what they can to support employees at risk of redundancy, signposting to new opportunities and organisations that can help with skills such as cv writing, business planning, interview preparation and more.
A range of experts come together to talk through the jobs market and the latest redundancy advice and support available to employers.
---
Adapt to survive – innovation success factors
In 2020, businesses have had to adapt and innovate more than ever before – either adapting an existing offering to suit the changing demands of customers, using unexpected down times to develop long planned product ideas, or spotting new opportunities for the business.
This webinar talks through some of the main success factors that can lead to innovation success. Led by innovation experts from GX Project, Teal Enterprise and DKS Straightforward it talks through how you can analyse your product and its got to market plan to ensure the most effective launch, and if you're working with a team to launch the product, how you can share your vision and get the best out of those around you to ensure the innovation's success.
There's also a chance to hear more about how to register to join two fully funded innovation programmes that the GX Project is running in November.
---
The Visitor Economy – The Road to Recovery
Hear speakers from VisitEngland, the North East LEP, our local authorities and NGI on how we plan to work together to make sure our industry comes back stronger than ever.
Discussion are centered around:
Steps to recovery for the local tourism industry – what are the quick wins and longer term goals?
Business support and funding – what is available and what is coming?
National and regional economic recovery planning and the role tourism plays in this.
---
Is the Non Green Company Becoming Extinct? How To Embed Environmental And Sustainability Policies Into Your Business
Climate change is re-emerging as a crucial part of the reopening of the economy, with councils creating cycling lanes and widening pavements to encourage walking or cycling to work, and companies becoming more switched on to their impact on the environment and the sustainability expectations of their customer base.
In this webinar, find out how your business can embed environmental and sustainability into your Covid recovery plan, and how going green could improve your brand and widen your market too.
---
Transport In Focus – What Next For The Daily Commute?
This webinar will explore how Covid-19, along with economic and environmental considerations, are shaping the future of transport in the region. Whether you need to know the impact of Covid 19 your employees' daily commute, or your business delivers products or services for the transport sector and you want to learn more about its future plans, join this webinar to hear from industry experts.
Newcastle City Council who will explain how data and technology are helping with parking, footfall and transport movement.
Go North East, who will tell us more about their vehicle investments and how ticketing changes will support commuters.
Nexus, who will describe how Covid has changed when and where people travel for leisure, work and education.
The North East England Chamber of Commerce will outline the opportunities in the transport industry, and the challenges they're looking to solve.
---
The future of work environments
Experts from Northumbria University, Space Group and Cundall explore what the future of work environments might look like. How are smart technology and long-term considerations of Covid-19 shaping the future of work environments?
Rob Charlton, CEO, Space Group, Lars Eric Holmquist, Professor of Innovation at Northumbria School of Design and Duncan Cox, Structural Engineering Partner at Cundall discuss various key elements of the future of the physical work environment including how a Digital Twin of your building can help to optimise your business, how smart tech will be integrated with traditional things like architecture in the future, and how digital design can deliver healthier and more sustainable spaces.
---
Staff wellbeing and welfare – How to prepare staff for moving back into the work environment
Having spent so much time away from the workplace many staff are understandably concerned about returning. Join this webinar to hear from experts about the best approaches when addressing the concerns and welfare of staff. Learn how you can help staff balance working from home with returning to the office and what learnings we should take from lockdown.
---
Logistics & Practicalities – preparing for moving back to your work environment
Chances are if your organisation hasn't moved back into its work environment yet, consideration is being given as to how, who and when. Government guidelines are available but what does it look like in practice? How do you ensure a workplace is 'Covid secure'? How do you implement a phased return to work? What legal requirements should you consider?
In this webinar Dr Wendy Pollock, Associate Professor of Nursing & Health at Northumbria University, Angela Macfarlane, Senior Lecturer at Northumbria University and Andy Hook, Owner of Blackfriars and Dobson & Parnell provide guidance and answers to these questions, plus, other areas you might not have even thought of.
---
Public Health update
On this webinar we hear the latest update on the public health situation in the region. Gerald Tompkins, Public Health Consultant at Gateshead Council, gives an update on the current regional public health situation and what the picture looks like in the short, medium and long-term future.
---
How educational visitor attractions are adapting and innovating to reopen
With 1 in 5 businesses not looking to reopen until August or September, it is clear there is uncertainty and challenges, particularly in the tourism sector. Mark Brassell, Director of Alnwick Garden, and Linda Conlon, Chief Executive of the International Centre for Life, which is home to Life Science Centre, outline how their respective organisations are adapting and innovating towards reopening.
---
Accessing grants & funding: Creating an innovative, digital pitch
Estelle Blanks, Executive Director of Innovation Supernetwork NE, takes businesses through the steps necessary to take a product to investors and funders. Whether your business is seeking a private investor or major government funding, success can depend on your ability to communicate your product and its commercial potential to the decision makers. This webinar takes you through the information an investor is looking for, how to get investor ready and how to create a digital pitch deck for Investor presentations.
---
The impact of reopening on Public Health
Hear the latest update on the public health situation in the region. Eugene Milne, Director of Public Health at Newcastle City Council, talks speaks about the local public health outlook after the reopening of hospitality businesses and the current situation with local lockdowns.
---
Emerging tech for a re-emerging region
The founders of the Locale app provide more details on how it helps move people around the city's venue whilst enabling social distancing and how it could help your hospitality or tourism business. NGI's Director of Leisure Tourism Ian Thomas also outlines how the organisation is taking an innovative approach to supporting the tourism and hospitality sector.
Reopening: A Public Health Update
Watch this webinar to hear another update on the public health situation in the region. As hospitality businesses get ready to reopen and Leicester goes into a local lockdown, Alice Wiseman, Director of Public Health at Gateshead Council, gives an update on the current local public health situation and how these changes will affect the situation.
---
We're Good to Go industry standard and TXGB digital marketplace for tourism
Find out about two national schemes and how they could support your business as the tourism industry sets to reopen on 4 July.
Hear from VisitEngland about their work on domestic recovery, including the We're Good to Go industry standard.
Hear more about TXGB, the UK's digital marketplace for tourism, brought to you by VisitEngland. James Berzins, Director of TXGB, explains how businesses across the UK are taking part in the market and benefiting from the free support on offer.
---
Public Health update
Hear an update from Eugene Milne, Director of Public Health at Newcastle City Council, on the public health situation in the region. Eugene gives an update on the current local public health situation, using Newcastle as an example, and how the evidence being gathered is informing decision making.
---
Digitising in the cultural sector – necessity and opportunity
Hear from Sarah Younas, at Tyne & Wear Archives & Museums, and Jon Weston, from Sunderland Culture, who tell us about how their venues have moved online during lockdown, finding the right online content to engage an audience and plans for reopening.
---
Adapt to survive
This session draws from McKinsey, the World Health Organization and others to share information about the emerging business landscape we find ourselves in, as well as measures that you can immediately put into place after the call to better position your organisation.
The focus is on the next 90-days; financial measures you must take and the considerations to give to pivoting your offerings quickly.
---
Public Health Briefing
Hear the latest update on the public health situation in the region. Alice Wiseman, Director of Public Health at Gateshead Council, gives a briefing on the current public health situation in Gateshead and how the evidence being gathered is informing decision making at a local level.
Alice discusses the position that we are in now and areas of concern and challenges moving forward.
---
Opportunities and challenges with the ageing audience
Nic Palmarini, Director of the National Innovation Centre for Ageing (NICA), and Abigail Pogson, Chief Executive at Sage Gateshead, discuss what the current sentiment might be towards travel, which tech and digital experiences are engaging an ageing audience, and, moving forward, how leisure and travel habits may change and what businesses can do to adapt and innovate for future visitors.
---
What Big Data is telling us about the future of tourism
As the tourism industry has responded to the impact of the Coronavirus, data and insight has been critical in helping with decision making and strategic thinking. A number of regional companies are at the forefront of using data gathering to support and inform the future of our towns and cities and their tourism offering.
Hear from The Urban Observatory and Wordnerds about what big data is telling us and what the future might look like.
---
The Economic Picture from the Bank of England
On the 7th May 2020 the Bank of England published this quarter's Monetary Policy Report, the first since the UK lockdown.
In this webinar, Gareth Harrison, Deputy Agent for the Bank of England in the North East, talked through the figures and what they mean for the economy and North East businesses.
The Monetary Policy Report (May 2020) can be found here
---
Cashflow planning and funding opportunities
In this webinar, Stephanie Davidson from UNW discussed cashflow planning and what funding opportunities are currently available. Hear how businesses can adapt their forecasts, why this is so important and additional considerations that need to be taken.
Stephanie also talked through the government funding initiatives, such as CBILS, that are available and what other funding is out there.
---
How to set up and market a successful ecommerce business
Experts from Leaf Grow and RetroFuzz as they discuss how to set up an ecommerce business.
The webinar covers the ease, opportunity and do's and don'ts of setting up and marketing a successful ecomm business. From Shopify store set up, to fulfilment and Facebook marketing, this will be a 360 view of everything you need to know about ecommerce.
---
Contracts, managing supply chain issues and the role of directors
Learn about the legal implications of event cancellations, managing supply chains and the role of directors in these financially unstable times.
Ward Hadaway also discuss the role and responsibilities of directors in these extremely unstable financial times.
---
The latest update on furlough
Roisin Patton from Ward Hadaway gives an update on furlough. She talks to us about what has changed in the last couple of weeks and how this could impact you or your business.
---
Responding to challenges and plans for restarting
Simon Laing, founder of CBK's Adventure Co., and Sally Dixon, assistant director at Beamish Museum, discuss how their businesses are responding to the current climate and how they are planning for the future.
---
The New Tourism Landscape
On this webinar Sarah Green and Ian Thomas from NewcastleGateshead Initiative discussed the issues that tourism businesses are seeking to overcome and what the new normal might look like.
Hear about insights being gathered direct from the industry, the challenges being faced and the opportunities moving forward.
---
Positive Ways to Keep Your Audience Engaged & Crisis Comms
This webinar looked at the importance of communications during covid-19.
Whether you're a software company or tourism business, learn how to engage with your audiences, remain visible and communicate difficult messages from communication experts.
---
Maintaining Employee Engagement
Therese Liddle from NRG shares advice on how to keep both existing employees and future talent engaged. She provides practical advice on how companies can manage and continue their recruitment process during this time.
---
If you would like to be involved in any of the webinars or have any ideas please contact Molly Lymn at citylife@ngi.org.uk
---