Juice Festival is celebrating the success of 394 children and families from NewcastleGateshead and across the region, who all achieved Arts Awards at last year's event.
Families and school children aged 7-10 who attended Juice Festival events, such as the Big Juice Read at the Discovery Museum, were invited to complete a Discover Arts Award – a national introductory Arts Award qualification aimed at children and young people aged up to 25.
Supported by Team Juice coordinators and volunteers, participants took part in themed crafts and workshops including activities such as rapping, dancing and drama, all exploring the colourful worlds of Roald Dahl's books. To achieve their awards, participants also met professional artists, shared their experiences with others and were encouraged to reflect on their work.
Arts Award's qualifications support young people to develop as artists and arts leaders. The programme develops their creativity, leadership and communication skills. Open to anyone aged up to 25, Arts Award embraces all interests and backgrounds and can be achieved at different levels. Through working towards an award young people learn to work independently, helping them to prepare for further education and employment.
Helen Ferguson, Juice Festival Programme Manager, said:
"Congratulations to everyone who completed a Discover Arts Award during last year's Juice festival! We're really pleased to see so many children and families taking part, being inspired, and expressing themselves creatively.
"Juice Festival are big supporters of Arts Award, offering the award at all levels, and work to bring the award to school children across the region, as well as young artists, young writers, and even our fantastic festival co-ordinators Team Juice. It's a brilliant avenue for children and young people to express themselves artistically, build a portfolio, and to gain experience and advice from arts professionals."
"We continue to run Arts Award projects throughout the year. At present we are working with schools around Gateshead on their Explore level awards, amongst other projects, but look forward to inspiring a similarly high number of budding artists at this year's festival."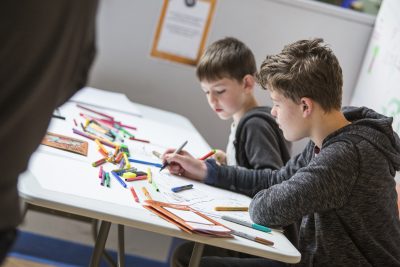 Eileen Atkins, Area Manager and Arts Award Lead for Culture Bridge North East, explains: "We are thrilled that so many children and families achieved their Discover Arts Award and can now share their experiences with others.
"Arts Award is creative, valuable and accessible and supports children and young people in achieving a unique qualification in their own arts interests and specialisms and can be done in and outside of school."
Juice Festival 2017 will take place from October 20th-29th and will feature children & young people's creative ideas and responses to the Freedom City 2017 programme. http://freedomcity2017.com/